Performance
Engine & Transmission
Upgraded engine performance
With upgraded performance and better fuel efficiency of Euro 6 Step D engine, MAXEN offers more power
when driving overloaded and uphill.
The European engine maker Fiat Powertrain Technologies has
a 100-year-old history of technology and know-how. Its Euro 6 Step D engine maintains maximum torques at a broad RPM range in a stable manner, offering excellent performance and fuel efficiency.
It makes a difference in your revenue.
As proven in the sale and real-road driving in Europe since 2019,
FPT engine has become more durable and reliable through additional
one-year driving test in Korea.
Euro 6 Step D Cursor Series engines

[FPT]

Diesel engine

Cursor 13 – 570ps / 255kgf.m (10 HP higher than Step-C engine)

Vehicle type : 8x4 Dump

Cursor 11 – 480ps / 234kgf.m (5 torque higher than Step-C engine)

Vehicle type : 8x4 Dump / Dump with three rear axles

Cursor 9 – 400ps / 173kgf.m

Vehicle type : 6x4 Dump

ED70 - 320ps / 112kgf.m

Vehicle type : 4x2 Dump

Euro 6 Step D DX12

[HDI]

DX12 – 440ps / 203kgf.m

Vehicle type : 6x4 Dump

ZF Auto Transmission & Manual Transmission

Established in 1915 in Germany,
ZF is a global transmission maker in close cooperation with global commercial vehicle makers.
Durability and quality of ZF transmissions are considered the best in the world.
This ZF transmission, tuned for the optimal and highly efficient engine performance of Tata Daewoo vehicles, bring our powertrain systems to perfection.

Automated Manual Transmission Optional feature

ZF Traxon 12-speed automated manual transmission (AMT)

Equipped with ZF-patented coaxial clutch system, this ZF Traxon 12-speed AMT carries out an automatic gear change pneumatically.
Excellent fuel efficiency thanks to the direct type + lower rear axle gear ratio
Vehicle type : 6x4 / 8x4 / Dump with three rear axles

Manual Transmission

ZF Ecosplit 9-speed manual transmission

Application of crawler gear with high-towing capacity
Better acceleration than 6-speed manual transmission
High fuel efficiency 6% better than 6-speed manual transmission
Less shift shock with the application of multi-speed transmission
Vehicle type : 4x2 Dump

Manual Transmission

EATON 9-speed manual transmission

Better acceleration, better fuel efficiency by 5-10%, and less shift shock than 6-speed manual transmission
Vehicle type : 6x4 Dump
ZF Traxon function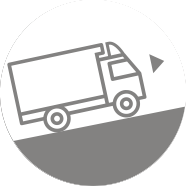 Hill Holder
Enhanced ability
to calculate gradient
degree with the
application of Gyro
Sensor that prevents
vehicles from sliding
when restarting
on a slope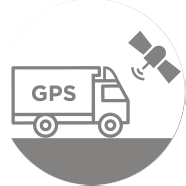 Prevision
Optimal gear shift cater
to road conditions
interoperating
with GPS
Optional feature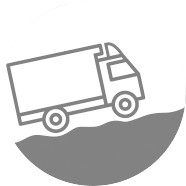 Off-road Mode
Gear selection and clutch
control suitable for the
off-road situations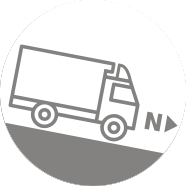 Eco-roll
Gear shift to neutral
on a down hill
to enhance driving
efficiency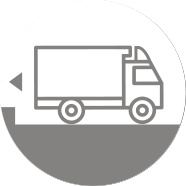 Drive on ldle
Driving at a low speed
without engagement
of accelerator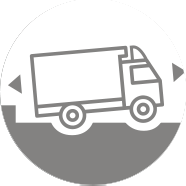 Rocking Free
Escaping from a rough road
and obstacles by shaking
vehicles back and forth
Durability & Driving Performance
Robust driving performance with enhanced durability and ride comfort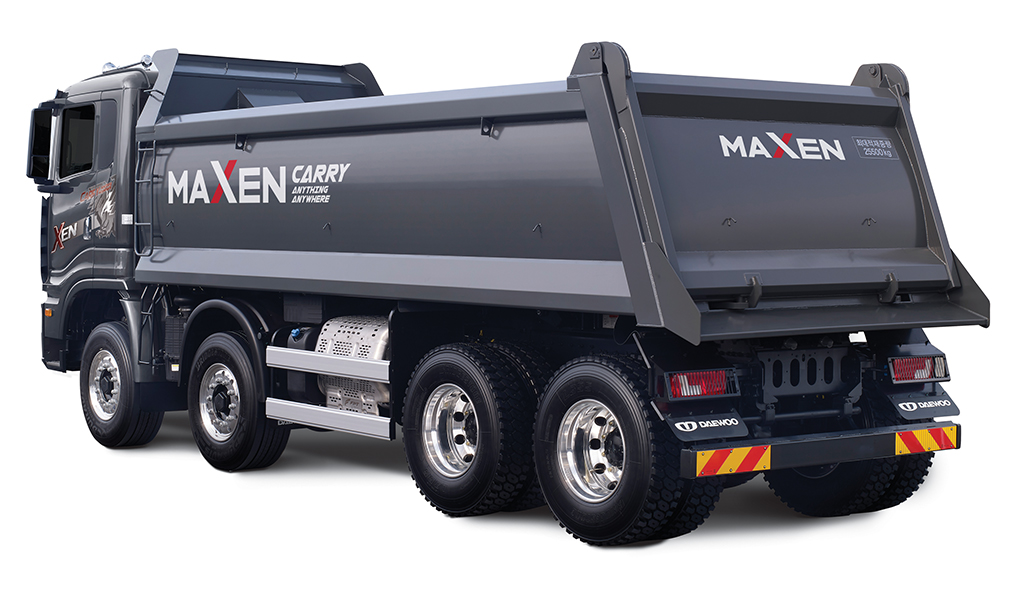 Upgrade in a structure to allow any working conditions and strong performance with sophisticated design
Cab with high stiffness

A cab with the best strength and stiffness is realized
through vehicle body structure design based on computer
analysis of numerous structures and safety validation,
and corrosion resistance and durability are enhanced with
the application of galvanized steel sheets

Reduced interior noise

Improved cab interior noise by cutting the inflow of external noise

Cab suspension (Full floating air suspension)

Optimal tunning on 4-point full floating air suspension
to reduce impact substantially by preventing excessive
cabin movement for enhanced riding comfort and stability while driving

High strength frame and powder coating

1st electrodeposition painting and 2nd power coating on a high strength frame
Frame under member
Enhanced riding comfort and stability of steering
Vehicle type 6x4 / 8x4 / Dump with three rear axles
Improvement of Ground Clearance and Steering Angle
Lifted ground clearance of the bumper for a minimized contact of the vehicle bottom and smaller turning radius for more convenient vehicle operation
Vehicle type 6x4 Dump
Aluminum Side Protector
Enhanced body stability with an upgraded side protector
Duct-integrated Air Cleaner
Improved layout and less contamination with the application of a duct-integrated air cleaner
Vehicle type 6x4 Dump
Integrated air processing unit (C-APU & E-APU)
Integration of innovative 4-level valve, air drier and air cartridge system to shorten air tank charging time and fuel efficiency
Safety system
Safe driving system for a driver as the top priority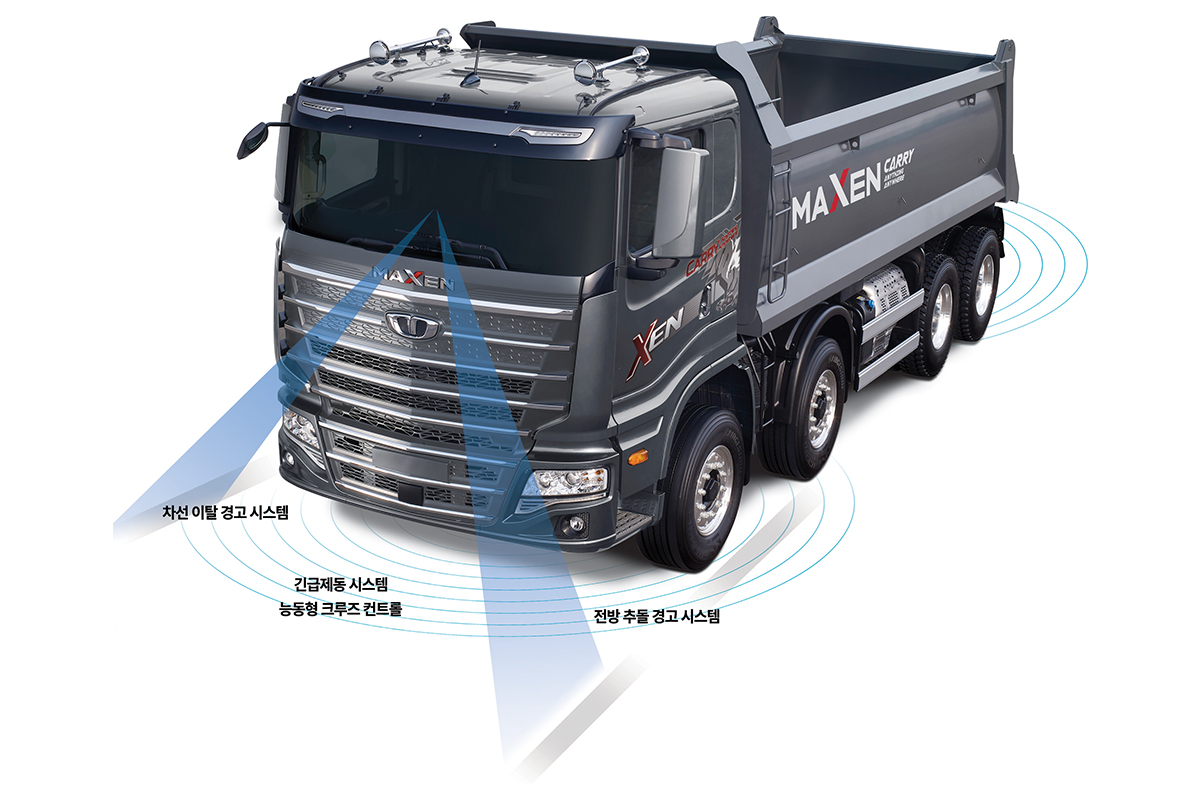 The safest space on the road by applying various state-of-the-art system and enhanced convenience level
TPMS : Tire Pressure Monitoring System

Real-time TPMS on an instrument panel on the driver's seat
allowing accident prevention and enhanced fuel efficiency

DSM : Driver State Monitoring

Warning system of driver drowsiness by detecting a driver's pupil movement and driver's glance behaviour away from the front driving context

Monitoring camera for the corner view

Standard feature : Royal trim

Consistent camera operation or camera activation according to
a turn indicator while changing a lane to play the blind spot via 8-inch AVN

ZF Intader brake

Braking force generated by hydraulic driving device in transmission

Optional feature

8x4 (570ps) / three rear axles / 6x4 (440ps) with ZF12 automated manual transmission

Hill Start Assist

The Hill Start Assist prevents a vehicle from rolling back
when restarting the vehicle on a slope by maintaining the brake pressure
Applicable in all environment without constraint
AEB : Advanced Emergency Braking
The system will alert the driver about a risk of colliding with a vehicle in front of the vehicle, and apply braking so that the driver can take action to avoid a collision or the impact from a collision
Advanced safety system applied in 3 phases (1st phase : alert collision / 2nd phase : light braking / 3rd phase : emergency braking)
AEB function can be blocked with the application of Off switch in accordance with freight types
ACC : Advanced Cruise Control
Maintaining inter-vehicle distance and speed consistently by recognizing the vehicle in front
Distance between vehicles can be set into 5 levels according to road conditions
FCW : Forward Collision Warning
The Forward Collision Warning(FCW) system recognizes the front vehicle, makes a real-time analysis, and warn the driver of collision risk induced by drowsiness or carelessness
LDW : Lane Departure Warning
With a camera installed in front it detects lane markers and helps drivers avoid crashes due to drifting or departing intended lane by alerting drivers
Exterior
Scientific engineering for highly efficient driving and MAXEN's unique dynamic style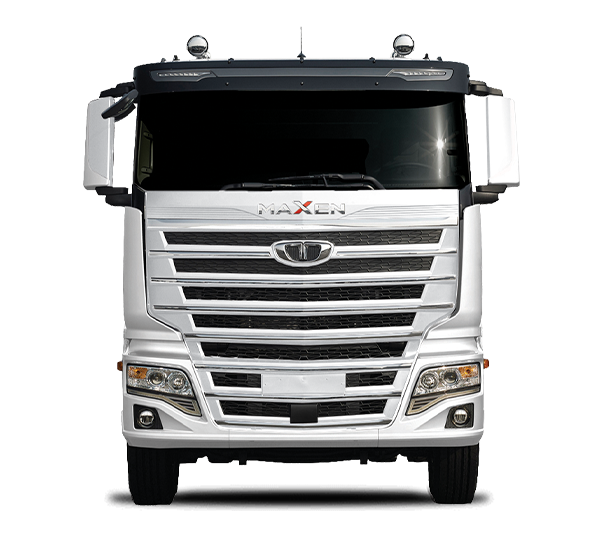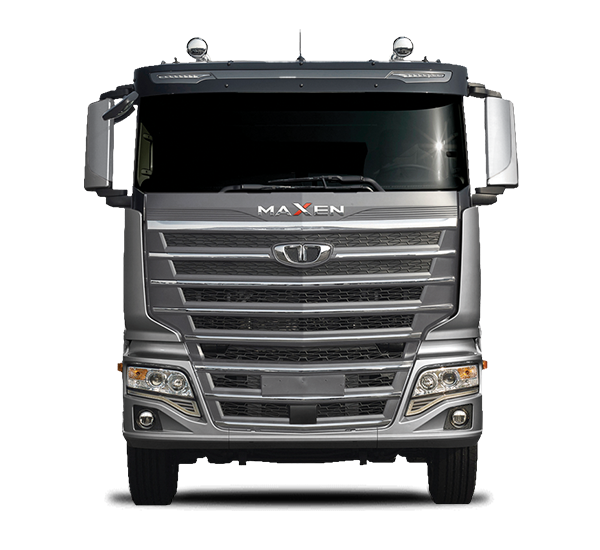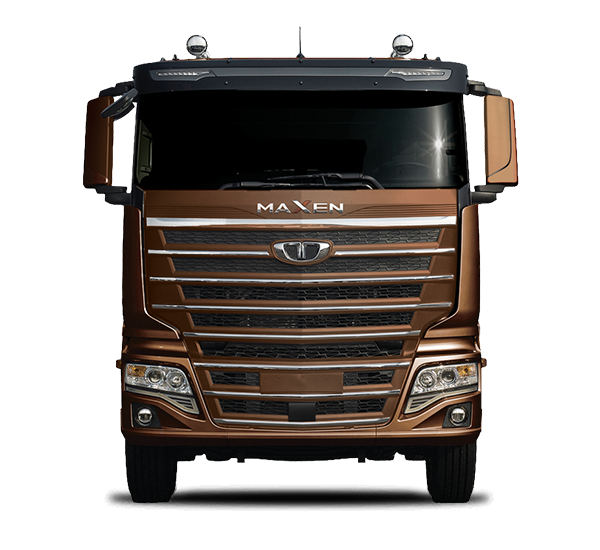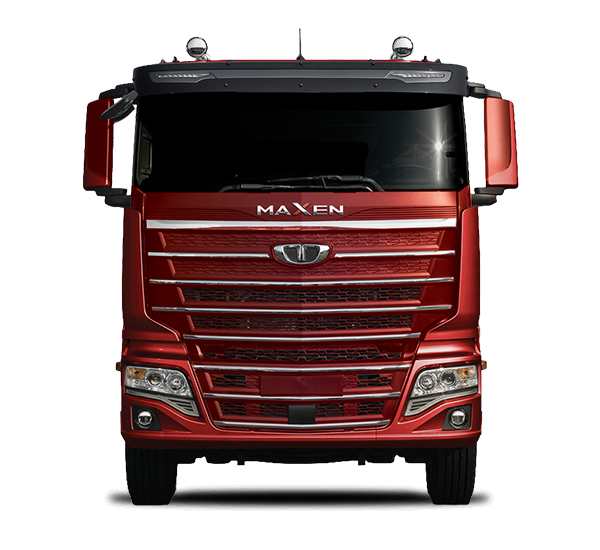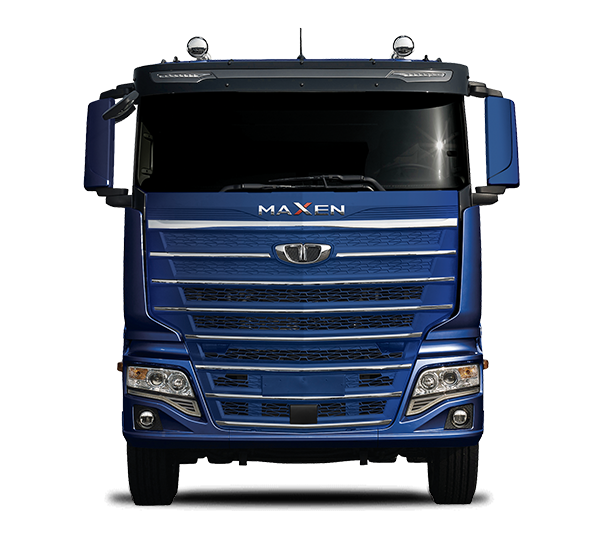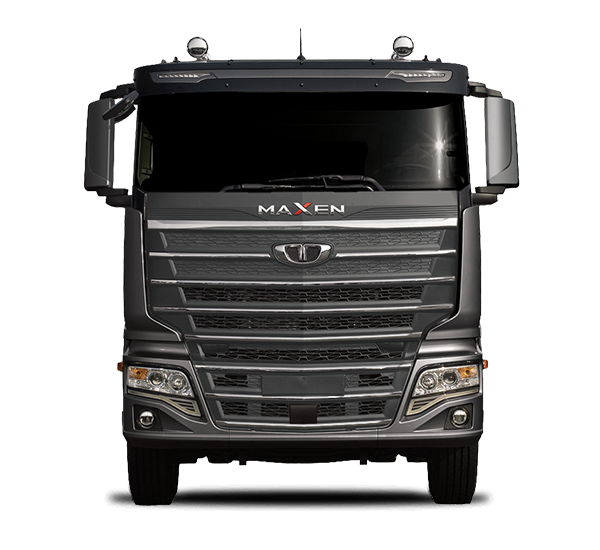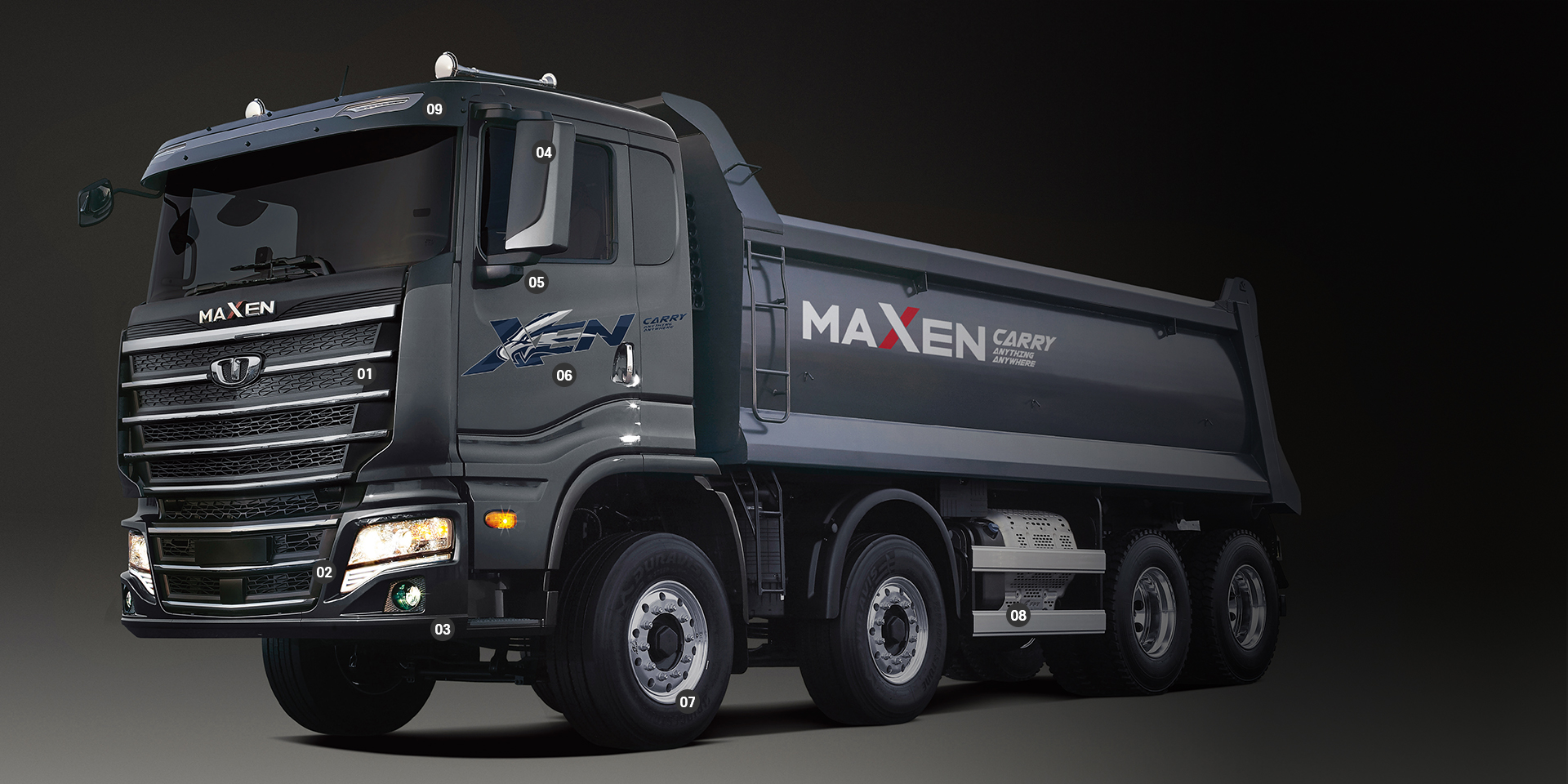 01Front lid and integrated bumper


Enhanced cooling performance with size increase

02New DRL lamp with dynamic style
03Aerodynamics bumper (better fuel efficiency)
04Stylish integrated side-view mirror
05Corner-view monitoring camera

Royal trim

06Dynamical design for decal
07Aluminum glossy wheel
08Aluminum Side deflector
09LED sidelight-embedded sun visor on cab front
Front lid
Enhanced cooling performance with size increase

New DRL with dynamic style
that improves stability during daytime driving
(Daytime Running Lamp)

Stylish integrated side mirror
Interior
Digital dashboard developed for a trucker
Full digital cluster

Optional feature : Royal trim

Full LCD for better visibility and futuristic design
Convenient to check vehicle conditions and sophisticated visual experience

Applied to commercial vehicles for the first time in Korea

8-inch navigation designated to commercial vehicles

Standard feature : Royal trim

Optimal driving route selection considering the vehicle height and weight for safe driving and fuel efficiency

Smart start button

Smart button for easy start
Sun visor on driver's seat Royal trim
Grip for getting on/off a vehicle
Parking cooler Optional feature : 8x4Dump
Auxiliary heater Royal trim Optional feature
Large-size storage console box Auto transmission
RefrigeratorRoyal trim Optional feature
German ISRI Driver's Seat Royal trim
Best riding comfort and pleasant driving experience
Convenience features
More convenient vehicle system for pleasant and comfort driving experience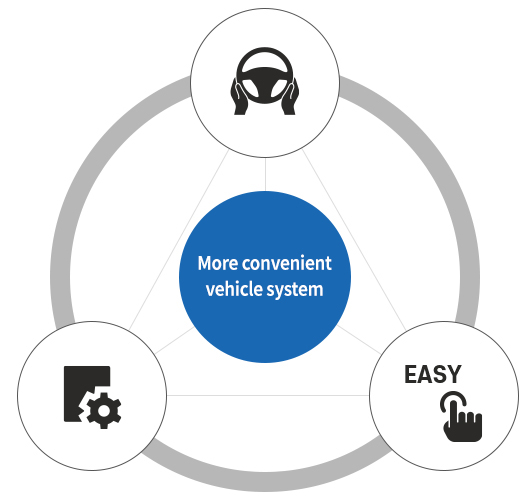 XENLINK, the latest feature of smart connected system

Remote start, smart diagnosis, and vehicle control

Driver's seat from ISRI in Germany
Best riding comfort and pleasant driving experience

More spacious and comfortable steps and shoe rack

More convenient and safe step and spacious shoe rack for driver

Electric cab tilting switch

Increased convenience level to install a cab tilting switch in the front lead
Digital Tachograph/Electronic toll collection system
Battery cutoff switch
Prevention of battery discharge during long-term parking and better level of convenience
Chassis air gun port
Convenient cleaning of chassis air gun port (separate purchase of air gun)
12V socket on passenger seat
3-level check arm
Minimization of door opening backward due to strong wind and enhanced operating force